The new DUST-PROOF automatic tablet testing sytem, the UTS-S20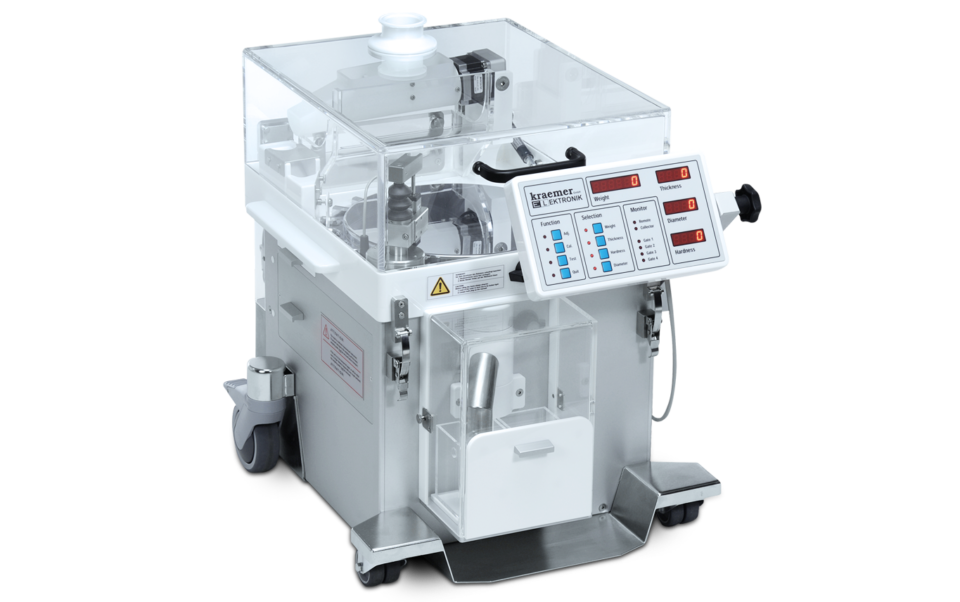 UTS4.1-S20
The special cover design and the unique sealing system for high performance duties provides the ultimate benefits for your production site:
+ Clean production environment
+ Better operator protection
+ Tailored to fit your tableting process
+ Easily connected to any tablet press
Special Features
The UTS-S20 DUST-PROOF is based on the Kraemer UTS4.1 automatic tablet testing system with following modifications:
Enhanced PMMA acrylic glass cover with special sealing.
Synthetic frame.
Special funnel for closed infeed of tablets.
Two way sorter for tested tablets.
Sealed and magnetic coupled tablet waste bins.
Two stage dedusting
In the patented feeder chute the tablets are automatically dedusted before testing. After separation the tablets are fed into the starwheel (star-shaped transfer element) with the use of a dust-insensitive sensor.
An additional tablet dedusting section after the separation keeps the tablet tester clean.
Remaining dust and debris are collected in a special dust container.
Self cleaning feature
To keep the track where tablets are moved through the testing stations clean, inside the starwheel are 24 PTFE scrapers shuffling dust and tablet crumbs to the waste bin.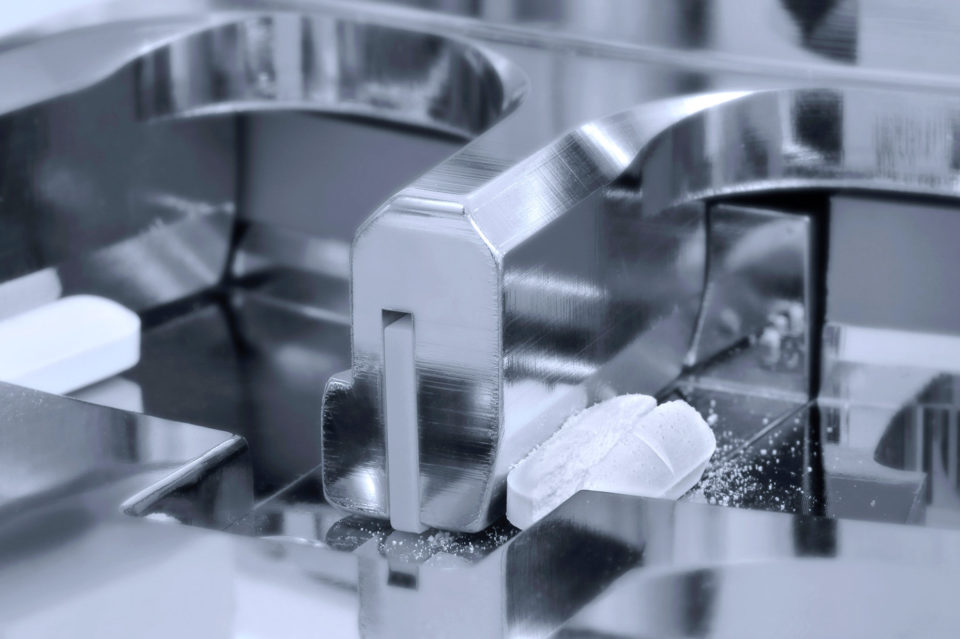 Positioning
The smart design of the transport starwheel alignes, centers and transports the tablets through the different measuring stations: weight, thickness, diameter and hardness.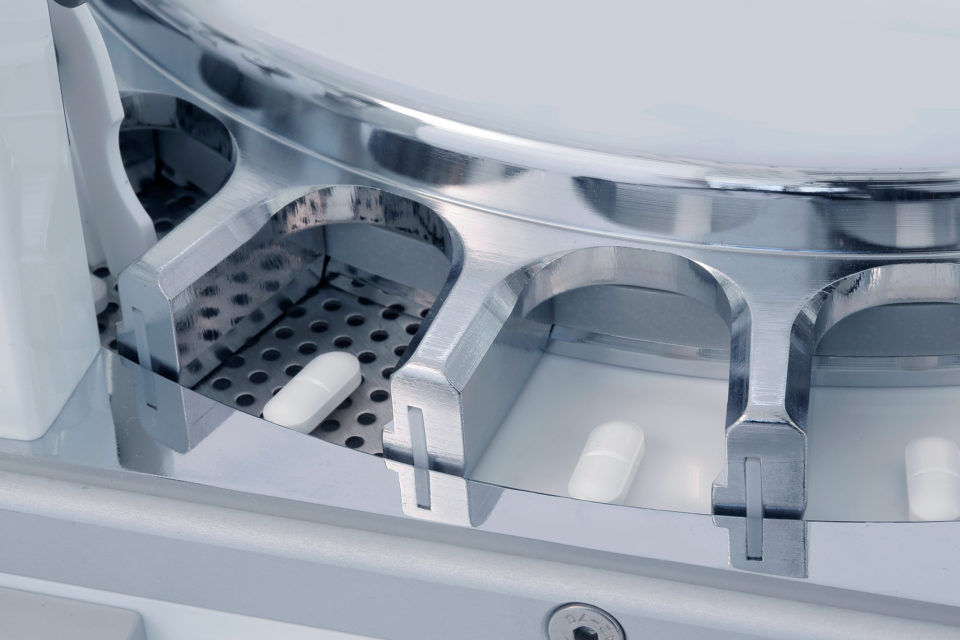 Handling of unusual tablet shapes
The transportation starwheel which moves tablets through the different testing station is available with many different executions and can be customized.
Online tablet testing
Use the Kraemer UTS4.1-S20 as an online monitoring device connected to your tablet press. Sampling can be initiated either from the production machine or via our Ph21 software.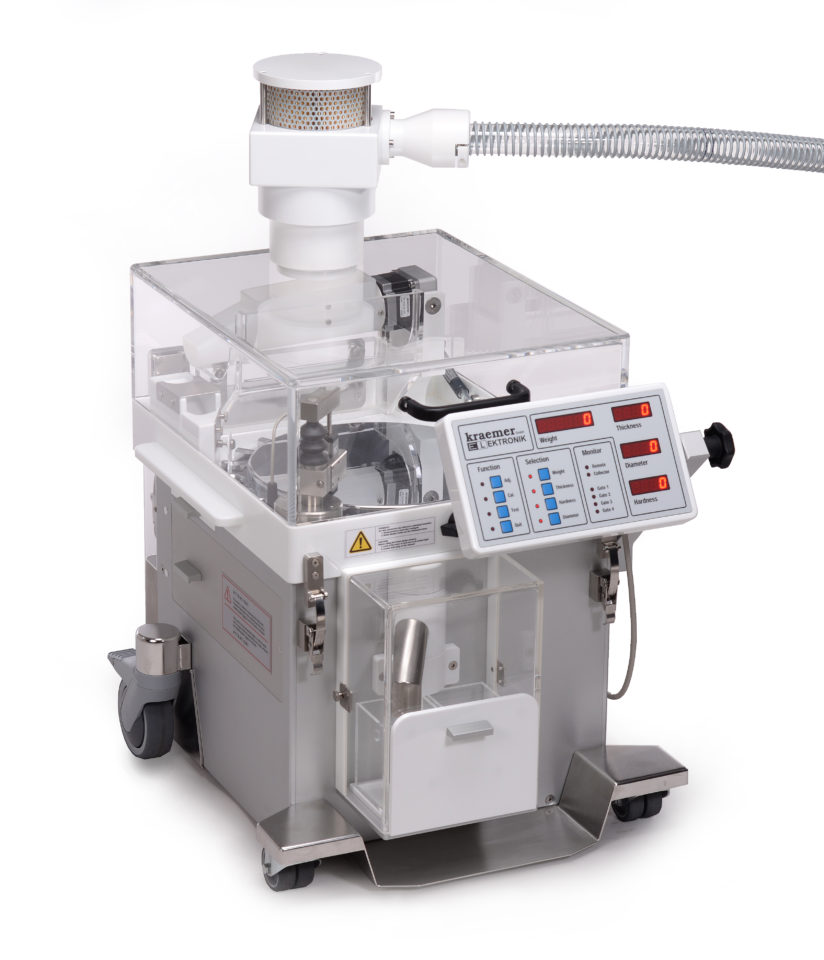 UTS4.1-12F – Automatic tablet testing system for tablets and capsules – with 12-station feeder and touch display option.